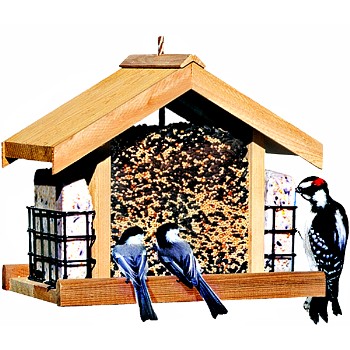 Woodstream 50144 Bird Feeder – Deluxe Cedar Chalet
Different birds like different bird feeder stations. Deluxe cedar chalet bird feeder is a feeder which should attract most well known birds, such as finches, jays, cardinals and sparrows. If you wish to choose a different design, CLICK HERE
Load your bird feeder with quality bird food. Do not use stale or rotting grain. The birds can tell the difference between good and bad. If your neighbor is serving better food….then the birds will follow your neighbor…. Put your self in the birds "shoes" and choose wisely.
Winter is coming early this year. Of course as always, some places will have rougher weather than others. Either way, the birds will have a need for some help this winter. Mount a couple of bird feeders in your yard and keep them stocked with quality bird food. The birds will appreciate it.
It is always nice to help the birds. Winter is not the only time to feed the birds. Warmer weather brings more birds into the area.
Natural food is more abundant, but the birds are beautiful to watch. Grow yur community of birds by helping out with a little extra bird seed.
Deluxe Cedar Chalet Bird Feeder