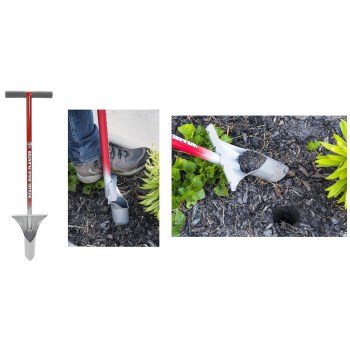 Garden Weasel 91350 Weasel Bulb Planter
from: Hardware World
Plant bulbs with ease & reduce bending/stooping
Sturdy, T-bar grip and pointed blade all for –
maximum penetration
Core pops out with ease
Extra wide, no-slip foot plate
Sharp blade and pointed tip
Durable construction materials allowing you –
to work faster with less effort
.
As we get older, the a persons back becomes a little weaker, some more than others. As we get older, we tend to like gardening a little more…..which is a good thing. Gardening can be a lot of fun and can be very relaxing…..provided that you choose the right tools that will prevent the stress on your back. Choose the tools that are more comfortable to work with.
.
Garden Weasel has a full line of needed garden tools. Choose quality tools. The proper tool sure helps make the gardening easier and more efficient.
See several labor saving garden tools by CLICKING here.
.
Garden Weasel Bulb Planter Tool
.
.