Wind chimes are favorites by all. There are unlimited tones available, depending on the particular wind chime.
See our display of many wind chimes CLICK HERE.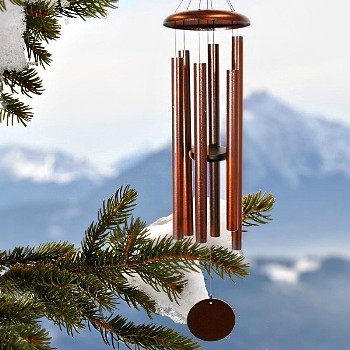 BWI/Springfield DSWCT406CV Windchime, 44″ Corinthian Bells Series ~ Copper
CORINTHIAN BELLS SERIES WIND CHIMES
The Corinthian Bell 44-inch Wind Chime is visually and acoustically exceptional, made to look unlike any chime on the market. Centrally suspended, heavy-walled aluminum tubes and a high-density striker give this chime its outstanding tone and resonance. The tubes are powder-coated in the same color as the top and sail, giving a complete, finished look to the chime, as well as the resilience to withstand all-season use. Tubes are suspended on durable synthetic nylon cords.
The soothing sounds of this wind chime will put you in the perfect relaxed mood, no matter how rough of a day you had. The high-density striker carefully knocks against the anodized aluminum tubes, creating a soft and melodic sound, and the tubes have a rich finish that catches the eye. You can use it on your porch, patio, or anywhere else where you want to relax.
Wind Chimes Patio Nature Sounds
Visually and acoustically exceptional chimes
Centrally suspended, heavy walled aluminum tubes along with high density striker
This gives chimes their outstanding tones
Hang your wind chimes on the deck or patio. You may consider hanging your wind chimes near your bedroom window. This will allow you to hear the soothing sounds as your fall asleep or to hear the morning welcoming sounds as your wake up.+
Wind Chimes Patio Nature Sounds
.
.